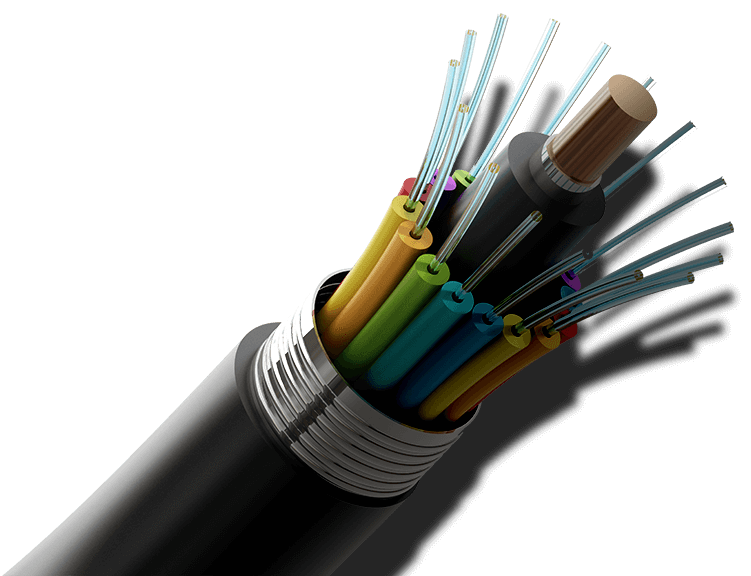 FIBRE OPTIC CABLING INSTALLATION
Experts in installing Fibre Optic data and voice network cabling
Our in house fibre optic cable installation engineers have a wealth of experience in carrying out optical fibre cable installations, diagnostics and repairs in the Hampshire, Surrey and West Sussex areas.
We supply and install fibre optic cabling for numerous purposes both internally for network backbones and externally for building to building links. Our longest installation so far is 2km underground but we are ready to tackle any size fibre optic cable project no matter how large or small.
We are so confident that our MOD trained fibre engineers will install to the highest quality and performance levels that we offer a 25 year manufacturer backed warranty on all fibre optic installations.
Our pre-sales technical engineers can assist you with the exact type of fibre optic cable to meet your requirements. This will be dictated by the distance and bandwidth required. So whether you need single mode or multimode connections we can help and advise so you get the right solution first time.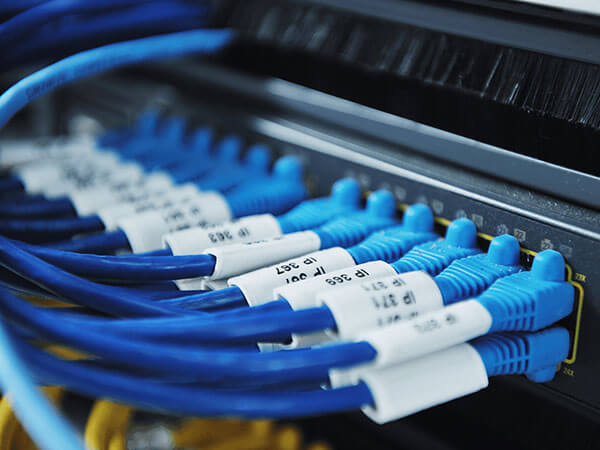 WHY CHOOSE SCL
All our Engineers are PIA (Physical Infrastructure Access) and NRSWA (New Road and Street Works Act) approved. All our Engineers must undergo our training programme, no matter the level of experience, this ensures Southampton Communications can ensure a consistent approach to quality and standards of work.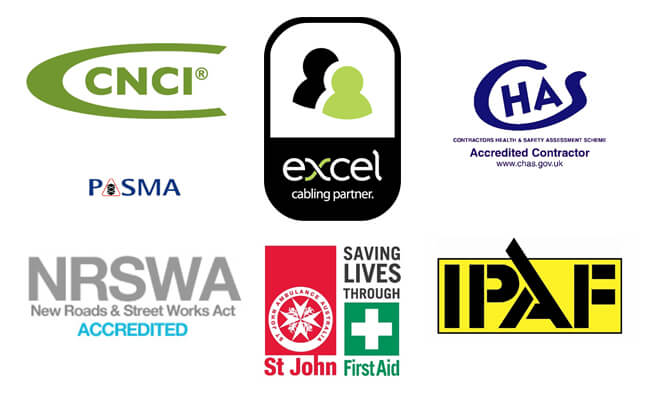 QUALITY SERVICE BACKED BY RECOGNISED STANDARDS
Southampton Communications is totally committed to its corporate social responsibility (CSR), we take pride in actively embracing commitment to continuous improvement; this being through every single aspect of our company, from our own people, through our respected suppliers, to our valued customers.
Health & Safety is at the forefront of our business when working in different environments, we are focussed and committed to improving our health and safety performance and subject all aspects of our work to rigorous safety audits.  All our Engineers receive the appropriate Health & Safety training, regularly renewed to ensure continuous improvement.
TRAINING AND EXPERIENCE
Ensuring a consistent approach to quality and standards of work
Southampton Communications Engineers are trained in all aspects of fibre optic cabling. Our comprehensive training programme ensures all Engineers are adequately trained to deal with all fibre types, joints, chambers, cabinets and datacentre environments.
Our teams are fully equipped with fusion splicing and test equipment (including OTDR), roadside safety, risk assessments, camera equipment and all other appropriate tools.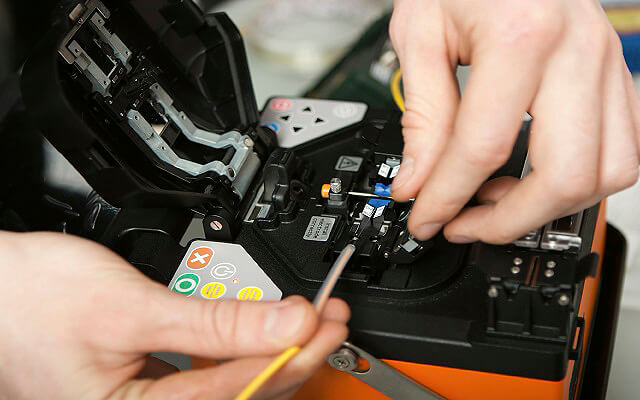 TYPES OF FIBRE OPTIC CABLING
Air blown fibre optic cabling is a new form of cable that enables easy replacement of damaged fibres. Each fibre within the cable is separate from the others and can be easily removed by blowing air through the cable, with a replacement fibre being introduced the same way.
The main reasons to choose air blown fibre installation for your office include:
Easier maintenance: no more heavy construction when you need small repairs. Just blow the old, damaged fibre out and the new one in.
Easy to upgrade: when a new, better performing type of fibre is available, you can easily add it to your network.
Innovative cable construction.
Multi-mode cables use fibres that contain multiple paths through which light may travel. Multi-mode fibre optic cabling is ideal for:
Medium distances (no more than 500 meters)
Campus buildings, medium-sized London office buildings, inter-cabinet links
Multi-mode fibre optic cabling provides high bandwidth and speed over medium distances. OM3 and OM4 cables can carry 1 Gbit traffic over distances of up to 550m, but they work up to speeds of 100 Gbit, which they can carry on distances over 100 and, respectively, 150 metres.
Upgrading from a copper network to a fibre one can be quite expensive. Luckily, Southampton Communications Limited can offer a middle ground, FTTD, which is not only affordable, but also high performing. In a nutshell, this fibre installation service consists of endowing your workstations with fibre optic Internet from your copper-based network.
Fibre to the desk installation is popular because you get high bandwidth capacity for voice, data and video, and higher speeds. It is also easy to install, as each group of desks receives a small fibre cable tube, and there is minimal disruption. You will enjoy a faster network within a day!
Single-mode fibre optic cabling is better over long distances than multi-mode because there is only one path through which light may travel. This prevents data from being scrambled and allows for much greater distances. Single-mode fibre optic cables operating at a wavelength of 1310 nm can carry 1 Gbit traffic over distances of up to 5 km, and 10 Gbit traffic up to 10 km. While they are limited in terms of bandwidth compared to their multi-mode counterparts, single-mode fibre optic cables have better distance coverage and they tend to be easier to maintain.
Multimode fibre optic installation
We recommend the use of multi-mode fibre optic installation for:
Football Stadiums
Golf courses
Data Centres
Universities
Information providers
Digital Signage
Fibre optic cables have a core that carries light to transmit data. This allows them to carry signals at speeds that are only about 30 percent slower than the speed of light, much faster than copper cables. There is also less signal degradation with fibre cables. If your business depends on efficient handling of high quantities of data, such as financial transactions, large backups or multimedia content, upgrading your core network to fibre optic technology can dramatically increase the speed and efficiency of your day-to-day operations, with far less maintenance and additional equipment than traditional copper infrastructure.
fibre optic cabling
Fibre cable installations can carry signals much further than copper cables, although the actual distance depends on the type of cable, the wavelength and the network. In some cases, you can send data up to 40 kilometres without any degradation.
Compared to copper cables, fibre optic cables are thinner and lighter in weight, can withstand more pull pressure and are less prone to damage and breakage.
Fibre cables are immune to temperature changes, weather conditions and moisture, all of which can hamper the connectivity of copper cables. In addition, fibre does not carry electric current, so it is not affected by electromagnetic interference that can interrupt data transmission, and it does not present a fire hazard, which worn copper cables can.
Traditional copper cables were originally designed for voice transmission and have a limited bandwidth. Fibre optic cables provide more bandwidth, allowing them to carry more data than copper cables of the same diameter. Single-mode fibre delivers up to twice the throughput of multi-mode fibre.
Although fibre optic cables may have a higher initial cost than copper, the durability and reliability of fibre can make the total cost of ownership lower. In addition, fibre optic installations are cheaper to maintain, more durable and require less hardware.
This page is related to: fibre cabling Southampton
Talk to Us
Why not speak to our Technical Team about the Fibre Optic Cabling solutions available.
Prefer to talk to someone? Give our expert technical team a call and they will be happy to answer any and all of your fibre optic cabling related questions.
02380 019 703