Horizon is a complete business communications service that provides an extensive range of fixed and mobile telephony capabilities via an easy-to-use web portal.
Horizon takes the burden away from your IT team. Local administrators manage and configure the system according to your organisation's needs. Employees can then manage their calls easily and effectively, so maximising individual productivity on your VoIP system.
Premium handsets plus desktop and mobile clients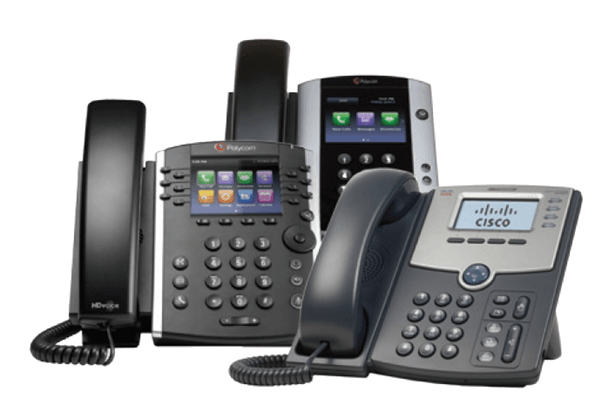 Horizon provides high standards of phone interoperability with its useful desktop and mobile clients plus a choice of premium handsets from a range of manufacturers.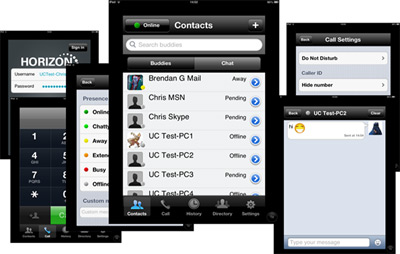 The mobile app logs your mobile phone, PC or tablet onto the phone system using WiFi or 4/5G mobile data from anywhere in the World and becomes part of the office phone system enabling you to make, take and transfer office landline calls, record calls and see real-time presence of other users as part of a unified central phone system.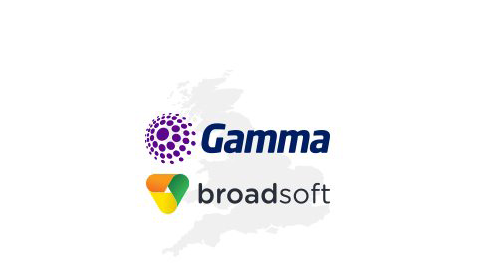 Broadsoft call controller platform
Supporting millions of business users worldwide, the world's leading call controller platform from Broadsoft sits at the heart of Horizon providing the broadest feature set and a sole focus on delivering the richest user experience in unified communications.
The Gamma IP network, reliable and secure
We lead on quality of service, scale and reliability. In addition to the network, we can easily and quickly transfer your existing phone numbers onto the Horizon platform.
An easy-to-use web interface providing feature control
and valuable user information
The online portal provides a simple-to-use Administrator interface that allows you to see at a glance call stats , system directory, user lists and permissions, call control call recordings and change phone settings.
This can be administered by an IT Manager or control can be passed down to some or all users as required.
With an experienced in-house software development team, we can provide a positive user experience for both service use and performance monitoring.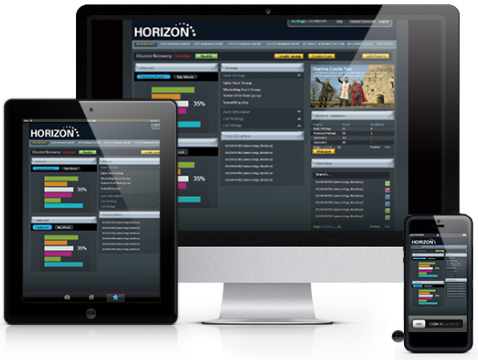 Voice over Internet Protocol is a technology that allows voice to be sent over the Internet.  Using a broadband Internet connection and subscribing to a VoIP provider allows a person to make phone calls over the Internet.
This phone system allows your business to have access to similar features that a larger company would without the high costs associated with the purchase of on-premises PBX equipment
Our VoIP phone system is designed to scale it suits all sizes of business whether you have a single home office or multiple locations around the globe. With on-demand features and same-day provisioning you can add users or remove users quickly and easily.
With our advanced feature packs you can completely tailor the user's experience and provide a call centre solution, reception console and much more with a simple click.
Call us on 02380 019 703 to receive pricing and specialist advice on our IP phone system options.
We host our cloud-based phone solutions across multiple secure data centres, each in a different location. In the unlikely event that one of them has a problem, another takes over.Our business broadband and fibre broadband networks are very reliable.
But let's say your internet connection does have an off day. You can take your IP phones, plug them into another broadband service and carry on as normal, using the same number (note, though that, we'll only support your cloud-based phone system when you're using it with the SCL Business equipment and internet connection that we set it up to work with).
And, when things are up and running again, re-connect your phones as before and you're back in business with high quality phone calls. Or, using the online portal, you could just re-direct your calls to any other landline or mobile.
This page is related to: VoIP phone systems Southampton, cloud hosted phone systems Southampton
Talk to Us
Why not speak to our VoIP team about our Voice over IP & Hosted Systems.
Prefer to talk to someone? Give our expert sales team a call and they will be happy to answer any and all of your VoIP & Hosted Systems related questions.
02380 019 703
More Cloud Phone System options: