Structured Cabling Installation
Experts in installing data and voice network cabling
Southampton Communications specialises in all sizes of Cat5e, Cat6, Cat7 and fibre optic structured cabling installations in the Hampshire, West Sussex and Surrey areas. Founded in 1994, we have years of data network cabling and telecoms experience to draw on, including extensive data and voice cabling consultancy expertise.
We are so confident our products and cabling installation services are of the highest quality that we offer a 25 year manufacturer backed warranty on all new structured cabling installations.
Manufacturer trained and experts in installing data and voice network cabling, we have the experience to professionally implement your installation, enhance your productivity and keep your systems operating at maximum efficiency.
Whatever size cabling project you have, from a single additional outlet to a 5,000 point installation we can help.
Every installation is performance tested using industry approved equipment to ensure the highest levels of integrity.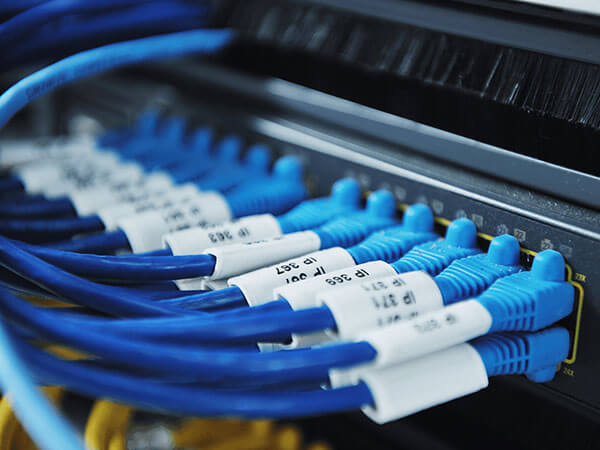 Our services include consultancy, planning, installation and testing of the following network categories
Why Choose SCL for your Structured Cabling
Downtime !
With an unorganized messy cabling infrastructure, mistakes are commonly made. Incorrect ports are unplugged. Even worse is the messy cabling that gets in the way. Trying to remove a single cable from a large tangled mess can cause stress on the other cables. This stress can lead to network and channel errors in the hardware that are very difficult to trace.
Airflow: If a point to point method is used, the front and potentially the sides of the switch are congested with cabling bulk. This impedes the airflow that the switch needs to operate. This also translates to underfloor cooling; cabling congestion in this space hinders the airflow of the CRAC unit and can cause cooling issues.
Once again, organization is the key word here. With an organized structured cabling system the benefits are:
MAC's are much quicker due to the fact that they are done in the MDA versus running long patch cords from equipment racks.
Potential for downtime is reduced as potential for human error is drastically reduced due to this organization.
Time savings; cable and port tracing becomes a much easier job with a structured cabling system.
Aesthetics; Never underestimate the looks! A structured cabling system will look much cleaner than a point to point method. Since the changes are done in the MDA versus at the hardware, the hardware can be cabled up and not touched in most instances. This allows the cabling in front of the switch to remain aesthetically pleasing.
This page is related to: fibre infrastructure Southampton, fibre testing Southampton, fibre installation Southampton
Talk to Us
Why not speak to our Technical Team about the Cabling solutions available.
Prefer to talk to someone? Give our expert sales team a call and they will be happy to answer any and all of your structured cabling related questions.
02380 019 703